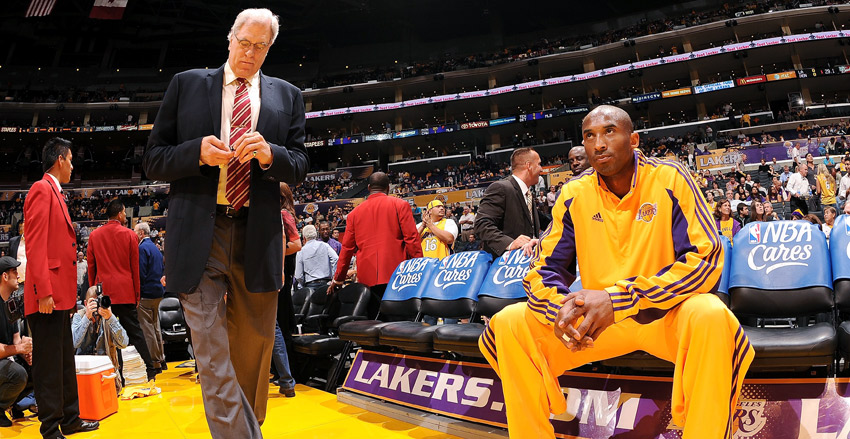 Kobe Bryant and Phil Jackson have been with the L.A. Lakers together for more than 10
years. Most marriages don't last that long; you'll understand if Kobe and Phil
bicker a bit now and then, especially when things are rocky at home. Things are
certainly rocky at home, with the Grizzliesdestroyin' the Lakers 104-85 at
Staples Center on Sunday night.
Kobe took 22 shots in the game; no other Laker -- not even Pau Gasol, who actually played more minutes than Bryant --
took so many as 10. After the beatdown, Jackson seemed to blame Kobe's
selfishness for the loss.
"Kobe had to screw up the game and start energizing the team by going one-on-one," Jackson said. "That takes the rest of
the guys out and as a consequence, that didn't bring us back
in."
Jackson also blamed himself for giving the team New Year's Day off from practice. Kobe took his own dig back at Phil.
"We've had days off and blown teams out, so I'm not buying any of that Zen bulls--t,"
Bryant said. "I think we're looking too far down the road instead of looking
just at the game that's right in front of you. You start skipping steps if you
look too far down the line."
Words! Something does have to give -- Pau, Lamar Odom and Andrew Bynum are too good to be playing Pips to Kobe's
Gladys Knight. Bryant's usage rate has shot up this season for reasons unknown,
and -- given that Gasol in particular is hugely efficient -- it's a problem on a
game-to-game basis. But that's only because the Lakers' defense, No. 4 last year
and No. 12 this season, can't get enough stops to make the FGA totals
irrelevant.
The Lakers will win a bunch of games soon enough, and this drama will disappear until some playoff game in May, where Kobe shoots too much,
Jackson criticizes him, and Bryant refuses to shoot in the first quarter of the
next game. But that too will get worked out, and whether the Lakers win another
championship will depend on how they perform, not how their star and coach are
getting along.