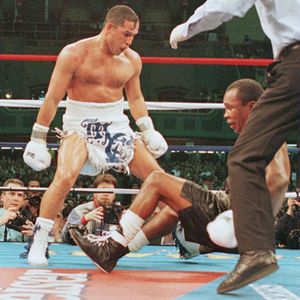 SAN JUAN, PUERTO RICO (AP)
Police in Puerto Rico say former boxing champion Hector ''Macho'' Camacho has been shot and critically wounded.
Camacho was shot in the face while in a car outside a bar in Bayamon, one of the cities that make up the San Juan metropolitan area. A statement from police in Bayamon said he was shot Tuesday night.
A second man also was shot and killed but authorities say it is not clear what relationship, if any, Camacho had with the other victim. The motive was unknown.
The 50-year-old former boxer was unconscious as he was taken to the trauma center at Centro Medico in San Juan. Hospital officials told reporters he was in serious condition.
Camacho won super lightweight, lightweight and junior welterweight world titles in the 1980s.
The outlet Primera Hora quoted Ernesto Torres, medical director at Centro Medico, as saying that Camacho was in critical condition after the bullet fractured Camacho's fifth and sixth vertebrae and lodged in his right shoulder. Torres added, according to the report, that the bullet never entered Camacho's brain and that Camacho received a blood transfusion.
Primera Hora also reported that police have one suspect in custody.